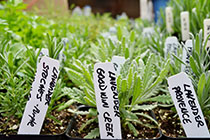 Plant Collection
The reason we don't list all our plants online is that the list is large and ever changing. One year we'll grow twelve varieties of Aquilegia (Columbine) for example, and the next year five.
The truth is that we are, indeed, "plant nuts", "garden geeks" and any number of less complimentary names that apply to people who go 'ga-ga' over green growing things. Geeks, not experts, mind you. Although we've been doing this since 1980 there is always something new to learn in the gardening world! You'll be able to stump us with your own odd ball requests and send us running off to Hortus to figure out the latest Latin name change. We belong to odd-ball plant collector groups and spend hours on the net tracking down new (to us) species and cultivars. All this because we love plants and love being able to share interesting new beauties with our gardening friends and visitors. That said, our plant list includes, but is not limited to, the following fairly broad categories:
Alpines, Succulents, Herbs (culinary, medicinal, ornamental - over 200 varieties), Grasses for Sun and Shade, Ground Covers for Sun and Shade, Dwarf Conifers for Containers and Small Spaces, Roses, Fruit Trees and Berries, Perennials for Sun and Shade and In-Between, Tropicals for Container Plantings, Heirloom and conventional vegetables, Annuals and Tender Perennials, Vines (including several good varieties of hops for the home brewer), Flowering Shrubs (lots of Hydrangeas), interesting Woodies, and the odd ball plant we've been able to grow from seeds brought back to us by plant collectors from their travels abroad. And, of course, Hosta and Bamboo.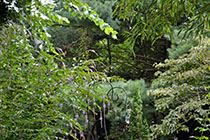 Bamboo
We are happy to help you choose the right clumping or running bamboo plants for your location and sun exposure. We have designed public spaces, common space and advise architects, landscape designers and landscape architects as well as homeowners. Call or write Michel for a consultation. Read more about our bamboo collection: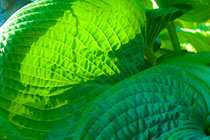 Hostas
Welcome to the world of Hostas - that long lived garden wonder that grows just about anywhere, needs little fussing over and looks better with age! No wonder hostas are so highly regarded by gardeners everywhere. For many of us the problem isn't finding a hosta that will grow in our gardens but finding room to grow all the hostas we covet once 'hosta fever' strikes!