Our Shop
To get a flavor of what a visit will look like, here is a slideshow (above) of the shop where we offer a large collection of dried herbs and spices, aromatherapeutic quality essential oils, carrier oils, creamy butters like cocoa and shea, emulsifying waxes, preservatives and more for cosmetic and skin care product making, and jars and bottles for all of the above
Fresh & Dried Herbs
We began our Seven Arrows adventure as an Herb Farm and we continue to be committed to selling nearly 200 varieties of dried herbs, and in season, live plants. We will not be listing our dried herbal inventory online as there are many excellent online sources of organic herbs. We can, however, send you what you need if you call or email us with your request.
Shop Online
Shopping online can be daunting: thousands of results.To help save you time and frustration, below you will find the products we have scoured Amazon for and found to be worthy of consideration. On the right hand side, under the "Search" sections, you'll find the catagories we've selected items for. We love your input and suggestions so if you have a comment or suggestion please email us. The transactions are all handled directly through Amazon and are safe and secure.
Go to Our Online Store >>
Tearoom
Created in the tradition of the Oriental Tea Garden where Nature provides the peace and serenity necessary to maintain harmony and a balanced view of the world. The explosive outbursts of color and fragrance of the spring and summer garden are replaced by the grace and beauty of the fall and winter garden. Visitors are invited to spend ten minutes or all day with a good book or a good friend sipping an interesting cup of fresh tea. No one will hover over you and a cup of tea can last all afternoon! We offer teas, freshly baked scones and goodies, peace and harmony! Where else can you get a cup of freshly infused nettle or dandelion tea, an aromatic tea from China or Japan, play a game of Scrabble in French, plan a garden, research a medicinal herbal interest or simply rest, relax and restore.
Giftcards
Seven Arrows has gift cards in any denomination available all the time at the store or over the phone. We would be happy to mail your gift directly to your intended recipient.
Our cards never expire or lose value.
Please call the farm at 508-399-7860 to order your gift card.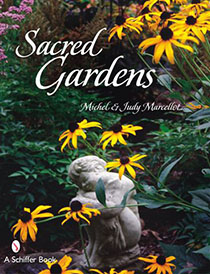 Our Own Book
Featured in an Oprah Blog!
"Gardens and wild places have long been recognized for their ability to influence the human psyche. Gardeners and non-gardeners alike will enjoy the authors' own story as they set out to create a public place where people come to visit, sit, relax and experience the peace and joy found in nature. The authors chronicle their own path, seeking to live lives of peace and balance and to make a living at doing something they love. Judy and Michel spoke with a Nobel Prize nominee, an internationally renowned expert in sacred landscape and scores of ordinary gardeners in an effort to define the nature of peace and sanctuary in the garden. Along the way, they met ordinary people who share their own stories, and how the simple act of gardening changes lives and individuals. You do not have to be a gardener to enjoy this book!" (Sacred Gardens').
Check out and buy our book online >>
Or buy it directly at the farm. You can also order our book by calling 508-399-7860